Christmas Break in Picturesque Prague
For our first Winter break in Europe we decided to visit Prague, Czech Republic as it is supposed to be beautiful around that time of the year and it's famous for its Christmas markets and holiday decor. We flew to Prague on Christmas eve because it was the cheapest to fly on that date and the ticket was still not cheap by any means.
We arrived in Prague, and it was COLD. BITTER COLD. Brrrrrr. We had the transfer booked through our hotel, which made it very convenient and it was actually pretty affordable. Prague is known to be one of the most affordable places to visit in Europe. The drive from the airport to the city was a little depressing, honestly. You could not see a soul outside and everything was grey and gloomy. Not what you want to see when you are pumped to be on a vacation around such a festive time of the year.
Anyways, we made it to our hotel, which was actually really nicely situated right in the heart of Old Town. This was where all the action was supposed to be or so we were told, but it was rather quiet. The boutique hotel was inside an old building, seemed to have been just recently renovated, and most importantly offered bedroom suites; we were happy with the choice and can safely recommend it.
We did not have much for lunch because of the flight so it was time for an early dinner. We we went out and it was nice to finally see some people, lots of people actually. Thankfully, quite a few restaurants were open despite it being Christmas eve and we picked this Mexican Restaurant on the other side of Vltava River about a 15 minute walk from our hotel that had promising reviews.
A 15 minute walk in near freezing temps and Chicago like winds can be brutal, but we were prepared and when we turned the corner around the National Theater to cross the river, the gorgeous views of the Prague Castle at night up on the hill just made us forget for a bit how cold it really was.
The food was excellent and boy had we missed Mexican food or what. The Raos sure do love their chimichangas and quesedillas :D Believe it or not, around midnight we were hungry again. Early dinners get digested pretty early too, you know. Luckily, we found Tynska Books & Bar, which offers light bites and is open till 4 am. What an amazing place with an even more amazing atmosphere. If you are a book lover, or a cocktail lover, or even if you just like cool places be sure to check it out. Thank you late night hunger!
Day 1
We woke up to a bright and beautifully sunny Christmas morning in Prague. So beautiful that we decided to take on the 1.5 km hike up the hill to Prague Castle. You can always take the bus if you are not the walking sort, but no guarantees that you'll see all the amazing things we saw on the way. We crossed the river over the Charles Bridge, which is a stone bridge connecting the old town to the lesser quarter and is almost always lined with a bunch of entertainers and artists. With its three towers, 30 statues that line it, and the views it offers, it is understandable why it is most visited place in Prague.
We made our way through the lesser quarter and its countless gem stone jewelry shops to reach the last part of the hike up to the Castle. It is really steep and you have to go up countless steps, but it is the best workout you can ever do with amazing rewards at the end.
I'll do that hike again any-day with architectural gems like the Prague Castle complex and St. Vitus Cathedral, as well as the Golden Lane and breathtaking views of the old town waiting for me at the end. And, if that is not enough, the castle square has lots of local snacks like Trdelnik, Bramborove and mulled wine and hot tea to keep you energized and warm. You must try them all, they are delicious, and the kids loved watching how they still make them like they used to back in the day. Pretty neat!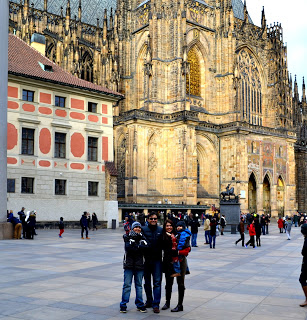 The walk back was much easier, but was still 1.5 km long, and we deserved a good lunch.The Czech snacks were great, but Eastern European food in general does not excite us too much so we went to good old Hard Rock Cafe for lunch. The safest choice that you can never go wrong with.
We got done with lunch right before the hour and we were steps from the Astronomical clock so it was perfect timing for the little show that the clock puts up every hour. The show is nothing extra-ordinary, but it is cute, free and a must see in Prague. The Astronomical clock--one of the oldest in the world is just beautiful, and you cannot miss it if you are in the Old Town. Yepp, you got it right, after all that walking and a scrumptious lunch we were definitely going back to the hotel for a nap. Well, nap for the guys and down time for me.
In the evening we strolled along Vaclavski Namesti, which is the main shopping street of Prague to the Wenceslas Square and National Library. Considering that it is about a half a mile long it is more of a rectangle than a square though.
Our dinner plan was to go to this Indian place called Pind. that Mr. Rao really wanted to go to. I have to be honest, that name got us Punjabis really excited. :P I have learned that if I keep him happy with the food he will keep me happy with everything else. So, even though it was another 1.5 km walk from the square in a quiet part of Prague outside the Old Town, Pind it was for us. The food was actually realllllly good, and that walk really helped make room for dinner. Who would have thunk we could get such amazing Desi food in Prague.
Day 2
The next morning we slept in and woke up to really wanting to have bagel breakfast sandwiches for some reason. We looked up this place called Just Bagel that was on our way to the Petrin Hill. Just Bagel was just great. Super tasty bagel sandwiches cooked right in front of you, freshly squeezed OJ, and amazing Americanos & Lattes at Mcdonald's prices. What's not to like!?
We were set for a while, so we made our way across the river to catch the cable car up to the hill. There is a nice little memorial for the victims of communism on the way. If you are adventurous and fit enough you could hike up the park like hill for 2.5 km. It was the coldest day yet, and even if we wanted to we could not do this to our kids who really had been great with all the walking we had done so far. Besides, the walk to the Cable car itself was not short to begin with. T
The Petrin Hill is home to its namesake tower, which many call the younger, less accomplished brother of Eiffel, and rightly so. The tower is nothing special and you could climb up with a pricey ticket, which we decided against. The park itself is lovely to walk around and great way to get away from the crowds and for more views of the castle and old town.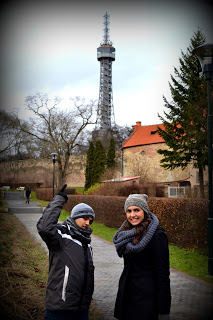 It was super windy and we froze on our way back down and across the river so we decided to head to the hotel as the winds were supposed to calm down later in the day. We were going to skip lunch after that heavy breakfast anyway.
Around 4 pm we were ready to head out again and it was much better outside. While researching for this trip online, I had come across this restaurant called Vytopna Railway Restaurant, famous for its unusual waiter service :) The whole restaurant is lined with table level railway tracks with fully functional trains that serve your order of drinks. I knew the boys would love it so we decided to go there for some evening snacks and drinks. As expected the boys got a real kick out of the whole experience. I think we made a great choice by sticking to just drinks and some snacks for the kids though. The food did not look too tempting.
We then went to the Old Town Square as it is absolutely glorious at night around this time of the year. With all the Christmas markets in the square, the giant Christmas tree in the middle, lots of food stalls, and the show stopper astronomical clock - of course, it was just picture perfect. Naturally, we took lots of pictures before we went to this Afghan restaurant nearby for some yummy Bolani and Kabuli Pulao for dinner that did not disappoint.
We flew back the next afternoon after an unfrogettable Christmas break. Prague lived up to the hype. It is gorgeous during the day, and even more gorgeous at night. It is one of the more budget friendly cities to visit in Europe. The food scene was surprisingly amazing. Czech food is not our thing, but any other cuisine you think of and there were several good options to choose from. Not one meal that was not good or was too pricey. I am sure anytime is a good time to go to Prague, but if you can, try and plan it around the holidays as it is definitely the most wonderful time of the year to visit Prague. Just be prepared to brave the cold.
Who's been to Prague? What time of the year did you go?
We'd like to know in the comments section please.