Iceland Day 4: Reykjavik in a day
On day four of our trip, it was finally time to explore the Icelandic capital - Reykjavik where we had been staying since our arrival. It is a pretty small capital (population approx. 120K) with a big heart. It offers such a unique blend of contrasts with all the buzz of a big town, and all the enchantment of a small town. So colorful and full of life, yet so sophisticated and cultured.
After three back to back, busy and very structured days, we wanted to keep it relaxed on our last day and just take our time exploring the city. Since we were staying just a block away from Laugavegur, it was a natural starting point for us. Laugavegur is equally popular with locals and tourists and good for everything from shopping to coffee stops to plain old people watching.
It is just as happening in the day time--thanks to the city's cafe culture, as it is at night. We could not help but notice the brightly colored street art and murals throughout Reykjavik, but especially walking up and down Laugavegur. They do not only make the city look beautiful, but also give it a fun, playful, and happy vibe. It almost felt like we were in a giant art museum.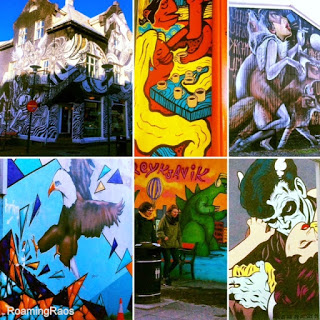 We then made our way to Hallgrimskirkja, which is a cathedral built in the late 1900's and is by far the most striking building in Reykjavik. You can see its tower from several parts of Reykjavik, a city with hardly any skyscrapers. As soon as we approached the cathedral, we were consumed by its grey-white grandeur. It is believed that the architect was inspired by lava flow and Iceland's distinct landscape and that makes sense as soon as one sees the building.
Can you spot our little monkey?
It is a popular destination with tourists because the church's tower also serves as an observation deck for a very small fee. The other option being The Perlan, which is a revolving dome/fine dining restaurant, which we decided against as it was a little out of the way. FYI, you do not have to eat there if you just want to go for the views.
We were at Hallgrimskirkja a little before noon and were able to walk straight up to get the tickets. The wait for the elevator was not bad either. The tower offers beautiful views of the city in all four directions through its various windows. We did not get to stay up their for too long because the church bell rang at noon and you can REALLY hear it when you are up there and our little one has extremely sensitive ears. But not before we got this beautiful shot of Reykjavik and the harbor from up there.
We then strolled down the street right in front of the cathedral and did some souvenir shopping on the way till we made it to Stjórnarráðið, which is an important government building and serves as the residence of the Prime Minister. Interestingly, it was initially built as a prison and served as such till early 1800's.
Their is a little park or green space right next to it which houses the statue of Ingólfur Arnarsson, the guy who is believed to have first found Iceland while sailing from Norway. We found it to be a nice place to enjoy views of the Harpa concert hall and the harbor. The Harpa concert hall is actually a phenomenal piece of architecture and perhaps the second most distinctively symbolic building in Reykjavik. The glass honeycomb architecture looks beautiful during the day, and even more so at night when its lit up.
A 15 minute casual stroll along the harbor on a gorgeous sunny day, and we arrived at the lively Marina. We were tempted to take one of the gazillion whale watching tours, but we were:
Done with tours
Very hungry, and
Not wiling to spend 3 hours on a boat in the hopes of catching a glimpse with this being our last day.
If you have more days in Iceland it would definitely be very cool to spot some whales and dolphins in their natural environment.
By this time, lunch and more specifically seafood was on our mind. We decided to eat at this place on the marina called Verbud 11 Lobster & Stuff. The menu looked interesting and a quick check on Tripadvisor did not raise any red flags. The place had a lovely ambiance and a very lounge-y feel to it. The lobster tempura with chili apple mayo from the bar menu, and the Lobster sandwich in brioche bread, fried calamari, rocket salad, avocado, and chili sambal & Japanese herbs were standouts. YUM! We passed on dessert here because I had something else in mind ;)
We needed to digest all the food we had just consumed and make room for dessert so we walked back from the harbor to Austurvöllur, which is a very happening park/square in the heart of Reykjavik with lots of cafes. Iceland's parliament and Dómkirkjan church are situated right on the edge of this square, so it naturally attracts a lot of visitors.
A few minutes south from Austurvöllur on Fríkirkjuvegur street and we arrived at the little lake in the center of the city with the City Hall in the background and The National Gallery up ahead. Just a gorgeous and peaceful place to enjoy a beautiful day.
We then looped around and made our way back to Hallgrimskirkja, the church we started our day at. Why would you go back to a place you just visited earlier, you may ask. And, I would say, for the love of food, of course. :P
There is a place called Cafe Loki, right across from the church on the corner, known for its traditional Icelandic food, but more importantly for its very popular rye bread ice cream that anybody who visits Reykjavik must try, they say. I mean, where else would one find rye bread ice cream, so I was definitely intrigued enough to give it a try. It was not the best ice cream I have had, but it was definitely one of the most unique flavors I have ever had, and I am glad I tried it.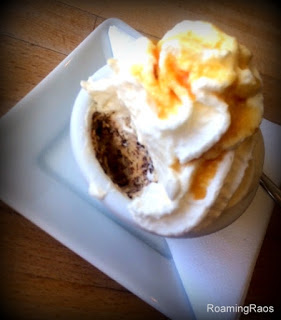 Rye Bread Ice "land" Cream
At least, now no one can say, "what, you went to Iceland and did not try the rye bread ice cream??!!" :P However, what they can still say is, "what, you went to Iceland and did not try the fermented shark with a shot of Brennivin??!!" And, I will gladly say, "No, I was not adventurous enough to try shark bits fermented in its own urine. Thank you very much!!" :P If you have the palate and the courage to try, then Cafe Loki is also a good place to do that.
It was definitely time to head back to our apartment and give the kids and ourselves some time to rest. Later that evening we went back to shop for some winter accessories that we really liked while window shopping earlier.
For dinner, we finally had the bread bowl soup at Svarta Kaffid - a little restaurant right on Laugavegur that only serves soups and drinks. I had my eye on it for the last 3 nights as we had gone past it several times. They offer only two soups of the day (one with meat & one vegetarian) and if you come in too late they usually run out of it, as they did when I tried to have it as a late night meal the night before. The broccoli cheddar was delicious and reminded me a little of Panera, just way better. What I love most about the place was the service, the cozy feel of it, and the views up and down Laugavegur street, as it is on the second floor of a small building. Great place for after dinner drinks as well.
My better half insisted that he wanted to go back to Islenski Barinn for the salad he had on night two. I guess it was that good. A little later we found ourselves ordering that for him and a side of baked curly fries with cheese for me. I HAD to give him company, although there is never any real excuse for overeating :P
We were pretty stuffed for obvious reasons, all the more reason to go for a little walk after dinner as we wanted to go check out the Harpa Concert Hall at night. It really does look magnificent at night. I hear it is beautiful from the inside as well, so if you get a chance (we did not) do check it out from the inside, or better yet, attend a show there :)
It was time to call it a trip and head back to the apartment for a couple of hours of packing and stretching before our 2:30 am pick up for transfer back to the airport. Not a huge fan of super early morning flights, but with Iceland air and Wow air as our only realistic options, we did not have much choice unless we paid a fortune for the return flight.
We do not mind roughing it out like that if the savings are worth it. And, it turned out to be pretty good actually, the airport was quiet, security was a breeze, and we reached Paris before noon, which gave us pretty much the whole day to unpack, get ready for the week.
That is it from Iceland.
We have made it pretty clear how we feel about Iceland, and its natural wonders. Do you feel the same? Let us know in the comments, and as always, share away, spread the travel joy!