London Calling - All Aboard the Eurostar!
Our first long weekend after moving to France and our choice of destination was easy. We could hear London calling us! Or maybe we could hear ALL the London desi eateries calling us? You can check out our blog on London desi eateries here.
This was going to be my fourth time and I can go to London another dozen times. (We have made one more trip since then and hope to go at least once more before we return to the US at the end of the expat assignment.) That says a lot about how awesome London is to visit because if you ask anyone who knows me they'll tell you I DO NOT like going to back the same place over and over again. Why would you when you have so many new cool places to see? Except if it is London, Lahore or San Francisco! Then you just keep returning <3
We took the Friday after work train to London from Paris Nord station. This was going to be my first time on the Eurostar and I was excited as going through the Eurotunnel was something I wanted to do since it first opened. I do not know why, but I did. You do not really see anything at that speed, but the idea of it is pretty cool. And you cannot beat the fact that in under two and a half hours you can get from Paris center to central London without any of the tedious check-in, security or immigration process. Love it.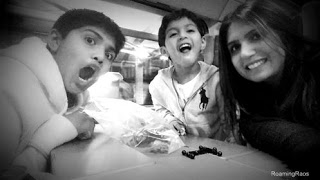 This was going to be the first time in London for the kids so sightseeing was definitely part of the plan, but not the only focus as it is most of the times when we visit a city for the first time. We got into London around 10 pm, got our London Oyster cards for public transport and checked-in to our apartment a few steps away from the London Bridge.
The location and the apartment itself was super, right in the heart of London. However, we did find it a bit inconvenient that we had to pick up keys at a different location 15 minutes away by foot. Not a huge deal, but something to note. It is still a great choice if you are in London for sightseeing. On our future trips we stayed at another apartment in the Greenwich area that we recommend and have re-booked at. You can read about it in our other blog on London here.
After we were all checked-in and done it was about midnight and despite having had chicken tikka masala on the Eurostar :P we were in London so yes we were going to eat again. Finding food, any kind of cusine, that late in London is never a problem. Lahore Kebab House was on our list and is always a good late night option. Also, you know it is a popular place when you tell a white cab driver the street address to a Desi restaurant and he replies "Oh, Lahore Kebab House?" (Review here)
Day 1
First day in London brought back so many lovely memories from my first ever international trip at age 10, and how I was in complete awe of everything. I could not believe I was now showing my 12 year old around London. Anyway, we had set day 1 for free exploration of London checking off as many major sights of the city that do not need a ticket as we could.
It was a typical London day with grey skies and a light drizzle; so light that you do not really need an umbrella, but feel it on your face as you walk :) We started our day at the iconic Big Ben, and then made our way to Westminster Abbey, and 10 downing for some photos with the horse guards, and of course a photo in one of London's many recognizable bright red phone-booths :)
Trafalgar Square and The National Gallery were next up. Nelson's column, the surrounding fountains, and the four majestic bronze lion sculptures that guard it were just as beautiful as I always remembered them to be. Always a great place to just spend some time and people watch.
Do not forget to check out The Fourth Plinth temporary statue/exhibit that changes every 2 years or so. You cannot really miss it. We rounded up the sightseeing tour by walking on The Mall from Trafalgar to Buckingham Palace. A refreshing 10 minute walk and lots of photos later we called it a day and made our way through Green Park to catch the tube back to the apartment and rest up before dinner at Tayyab's of London. (Review here)
Day 2
We had to meet some family so we got together with them in the morning, and they treated us to a yummy Halwa Puri Buffet Brunch at Gourmet Restaurant. The food was pretty good and the restaurant was very tidy with lots of space to sit comfortably. They then accompanied us for a beautiful walk along the Canary Wharf before we bid them good-bye as it was time for us to head for our visit to Madam Tussauds London that we had pre-booked online.
I highly recommend you do the same as the lines can be atrocious. I also recommend the two or three attraction "Combi Tickets" to London attractions instead of individual tickets. You can pick attractions to visit and save some decent money and lots of time and then just show up at your stated time.
Again, I could see the same fascination in our kids' eyes that I had all these years ago. The good thing about visiting after so many years was there were lots of new wax statues and new experiences. The Star Wars & Marvel Super Heroes experiences were big hits with the boys. This was about having Adeen experience London just as I did as a child, but if you have been to wax museums elsewhere or they are just not your thing you could always pick the Sea Life Aquarium or Shrek's Adventure or London Dungeon as one of your attraction for the Combi ticket instead. It is nice to have several options.
We then headed to Dishoom for dinner, which we were super excited about as I had heard lots about it and had at least 3 or 4 friends recommend it. It was a chilly November night and the line was LONG. Wow, with a wait time of over an hour this place better be good, I thought. A few minutes later we had a server bring out mint tea in these little cups for everyone waiting outside in the cold. Nice touch, certainly. Luckily, 30 minutes later instead of the original hour wait time we were called in, we got seated and I was immediately digging the atmosphere of the place. Tres chic.
There were so many little things and touches that I quite loved e.g. the "Chote Dishoom Wallahs" kids menu - adorable - prices - not so adorable :P Overall, I really enjoyed the meal and all the little things like the metal water cups, the Masala Chai in the glasses, the Romali Roti, everything. I would go again. My husband would think twice anytime he has to pay $6 for Malai Kulfi, however. LOL. Dishoom's location is just amazing, and perfect for an after meal walk around Piccadilly Circus. The whole area is just wonderful to be at anytime, but there is nothing like being there in the holiday season.
Little touches go a long way
Day 3
Our last day on this trip started with a relaxed morning before we left to go see the Tower Bridge & London Tower. We spent the next couple of hours walking around Hyde Park and feeding the countless friendly geese and pigeons and admiring all the greenery and the various statues spread throughout the park. I love Hyde Park for it is one place in London where you see the locals, the tourists and the environment come together and yet be so peaceful and enjoyable.
All the walking surely created an appetite so we walked over to Patogh, this hole in the wall Persian place in Marylebone. The place was authentic, food was good, but not the best Persian we have ever had. The mint yogurt drink and the gigantic sesame bread were delicious and deserve a special mention, however.
In the evening at the pre-booked time around sunset we went to The London Eye, our second attraction of choice, and definitely the preferred choice over The Shard for the Combi ticket. The lines were not horrible as it was raining a little. I would not want to imagine the lines in the Summer, but the advanced booking definitely helps as we were able to walk right up. This was the first time for all of us on the London Eye and I am so glad we decided to this as the views across and on both sides of Thames from above our beautiful. You can literally see all of London unobstructed from there. And, it turned out sunset is a great time to visit it.
It is a London must do for a reason. We had some Kachoris and chai for snack at this little place right across from it. The boys then went back to the apartment for a nap and I went on for a quick meet up with a good old friend from high school. We ended the trip with another delicious late night meal at Tayyab's. We should have picked some place we had not tried yet, but oh wel!! Leaving London was sad, but the good thing is one can always go back :)
How many times have you been to London? What is your favorite thing to do in London?
Leave us a comment and share this post with other London loving friends.