Road Trippin' in the Canadian Rockies
The last time we visited the Canadian Rockies was almost a decade ago. I don't know why it took us as long as it did to revisit a place that gorgeous when we had all the reasons in the world to. Canada and its Rocky Mountains finally made it on our travel list again this Summer. We have the emotional black mail of our six year old to thank, who did not think it was fair for him to have seen so many cool places in the world, yet to never have been to his Lego fan cousin's house in Canada :) Don't you just love it when you have family to visit in amazing places?
Calgary would be a starting point or hub for anyone wanting to visit the Canadian Rockies. And you're just in luck if you get to visit a cool city at the best time of the year, see your sister (read soulmate), and explore the heavenly Rocky Mountain region all in one trip. It is almost as good as wining a jackpot. No, seriously. When you do not have to worry about accommodation, or book tours and guides, have insider tips on where to eat, free rides around town, and best of all, for once when you do not have to do much planning at all, it is nothing short of a travel lottery.
Day 1
We left Calgary on a 2 night 3 day road trip through the breathtaking Rockies. Let me just say, this is one drive where you want to have your cameras ready almost all the time. As soon as you enter the Banff National Park and begin the drive along the Bow River, you'll be surrounded by gorgeous peaks all around and you'll lose count of the number of lakes and vistas on your way.
The towns of Canmore & Banff are gorgeous and within an hour and a half drive of Calgary and very doable day trip ideas. Lake Louise is another breathtaking possibility for a day trip from Calgary. If you are short on time and a day trip is all you can manage then these are must visit locations and trust me you will not be short on beautiful pictures in your camera. Of course these are amazing locations for overnight trips too if you do not wish to drive too far. We had been to Banff and Lake Louise before and planned on stopping at Lake Louise on our way back as I had always wanted to see it in the Summer.
Talking of lakes, as you are driving along the Icefields Pkwy, one pit stop out of so many worth mentioning is Bow Lake/Bow Summit. You can just stop along the road and try and take in the beauty that is Bow Lake or have a nice little picnic. Or, if you are not pressed for time and up for a little adventure, you can drive up a bit further and hike up to the Bow Summit for an amazing view of Peyto Lake.
We then continued on towards the Saskatchewan River Crossing to enter Jasper National Park and arrive at Columbia Ice-field Discovery Center. This is where you can stop to go on an adventure on the mammoth Athabasca glacier either on one of the special Ice Explorer buses or take a walking tour. We had been on a glacier adventure before so we passed on it, and stopped here to check out the Glacier Skywalk instead, which was a new adrenaline pumping attraction that had recently opened and I was super excited about it.
Buses leave from the discovery center regularly that take people to the Glacier Skywalk a few kilometers ahead. You literally get to live on the edge here and experience 360 degree views with nothing but a glass platform between you and almost a 1000 ft drop. How cool!?
It really is not that scary, and even if you are the most feeble of hearts you should try and muster up some courage and do this. You will not regret it, trust me! Not often that you can have an alpine heaven all around you, and the clouds and birds floating below you. If you are brave enough to spend some time on the glass platform, you'll even notice some clues of the most ancient life forms. Super fun adventure; so glad we went.
By early evening we finally reached our home for the night at Pocahontas Cabins about 20 minutes from the town of Jasper. Cute little typical mountain cabin retreat in a peaceful setting, perfect for groups and families with a pool & hot tub and all the cabins have one or two bedrooms and kitchens. Great for longer stays.
I cannot take credit for the reservation though. As I mentioned, I was fortunate enough to have my brother-in-law taking care of stuff for us on this trip. I do know that it was not easy finding accommodation for a group of seven and that is why we ended up splitting our two night stay between two different locations, which worked out great because we got to see more of this beautiful region. So, plan ahead especially if you are a larger group and if you run into trouble, considering splitting your stay. We ended the night with a casual stroll in downtown Jasper, some souvenir shopping, and a lovely casual meal at the Jasper Brewing Company.
Day 2
Our next morning we checked out after breakfast and started the day with a hike in the magnificent Maligne Canyon despite one very unprepared and unexcited person in our group. I was expecting it to be a fun little hiking adventure, but had no idea what stunning nature awaited us on our hike. There are three different paths of varying difficulties to choose from. We ended up doing the middle one, which was pretty doable for any average healthy adult. My six year old had a very enjoyable time without any trouble. I cannot say the same about my husband though (haha :P)
How perfect can nature be?
Our next stop was Maligne Lake, which was not too far from the Maligne Canyon. The drive from the canyon to the lake was splendid. This lake anywhere else would be a showstopper, but by this time having seen all that we had we were spoiled rotten so we were left a little underwhelmed. Also, the fact that it was overcast and started to drizzle made it a quick stop for us and we were off to our final destination for the day - Golden, British Columbia.
We stayed at the Kicking Horse Mountain Resort in Golden and I could just imagine what a perfect ski resort it would be in the Winter. Gorgeous in the Summer too, but it is definitely meant to be a convenient ski resort with easy access to lifts and slopes. We had the beautiful view of the lifts and the slopes from our 2 bedroom suite, which comfortably sleeps 6 and had a full kitchen. It was off-season for the resort so not everything was open around, but we did have a fun time walking in the rain for dinner at a nearby restaurant called Kicking Horse Saloon. The food was good and the service was friendly.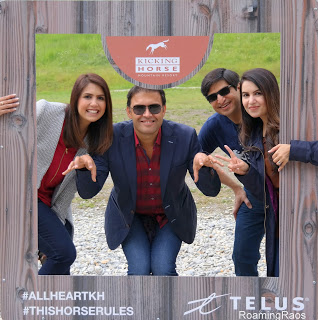 Our gracious & gorgeous hosts
Day 3
On the final day of our road trip, our first stop was Emerald Lake, one of the two unbelievably picturesque lakes on our plans for the day. Just when we thought this region could not get any prettier. The word that came out of my mouth when I first walked up to Emerald Lake was just "wow"!! With that beautiful color, no wonder it is named after such a precious gemstone.
You can go kayaking or take a boat ride in the lake. There is a nice little restaurant that looks right onto the lake, or if you'd like to you can rent one of the cabins on the lake. The cabins are not cheap and I hear they are usually booked for 2-3 seasons in advance if not more. For how gorgeous this place was, it was relatively uncrowded, which made it even more mesmerizing. A light drizzle cut our stay a little short here. Also, we had plans to get to Lake Louise by lunch time so we had to make a move anyway.
We reached Fairmont Chateau Lake Louise right around lunch time and we were hungry. The hotel is super popular and equally busy with overnight and day visitors. We were able to score a table fairly quickly at their Lakeview Lounge. The food was more than lovely, but it was the million dollar view of Lake Louise with the majestic mountains and Victoria glacier towering upon it that made it super special. What a treat for our taste buds and our eyes.
We skipped dessert and grabbed ice cream cones from the cute little shop downstairs on our way out to enjoy on the lake. Having visited Lake Louise in Winter previously, I am so glad to have finally seen it in the Summer. I must also say, it was nice to actually enjoy the views without having to freeze our butts and being able to feel our ears and nose while doing it this time was just great.
And with that we ended our 3 day road trip to the Rockies and it was time to head back to Calgary. I would not be wrong in saying that we were just overwhelmed by the fact how naturally blessed this region is. It has something to offer for everyone and if you are yet to visit this beautiful region and you live in North America, I do not know what you are waiting for?! Do it!! :)
Once again, a shout out to the most amazing hosts anyone can ever have - my sister, Kanwal my brother-in-law, Iqtidar, & my nephew, Faizaan who made this unreal trip a reality for us <3
Please share your experiences in the comments if you have been to the Canadian Rockies.
Will you be rocking in the Canadian Rockies in the future? Share this post with someone you'd like to go with :)